Lidar Technology Preserves Memory of Beloved Historic Building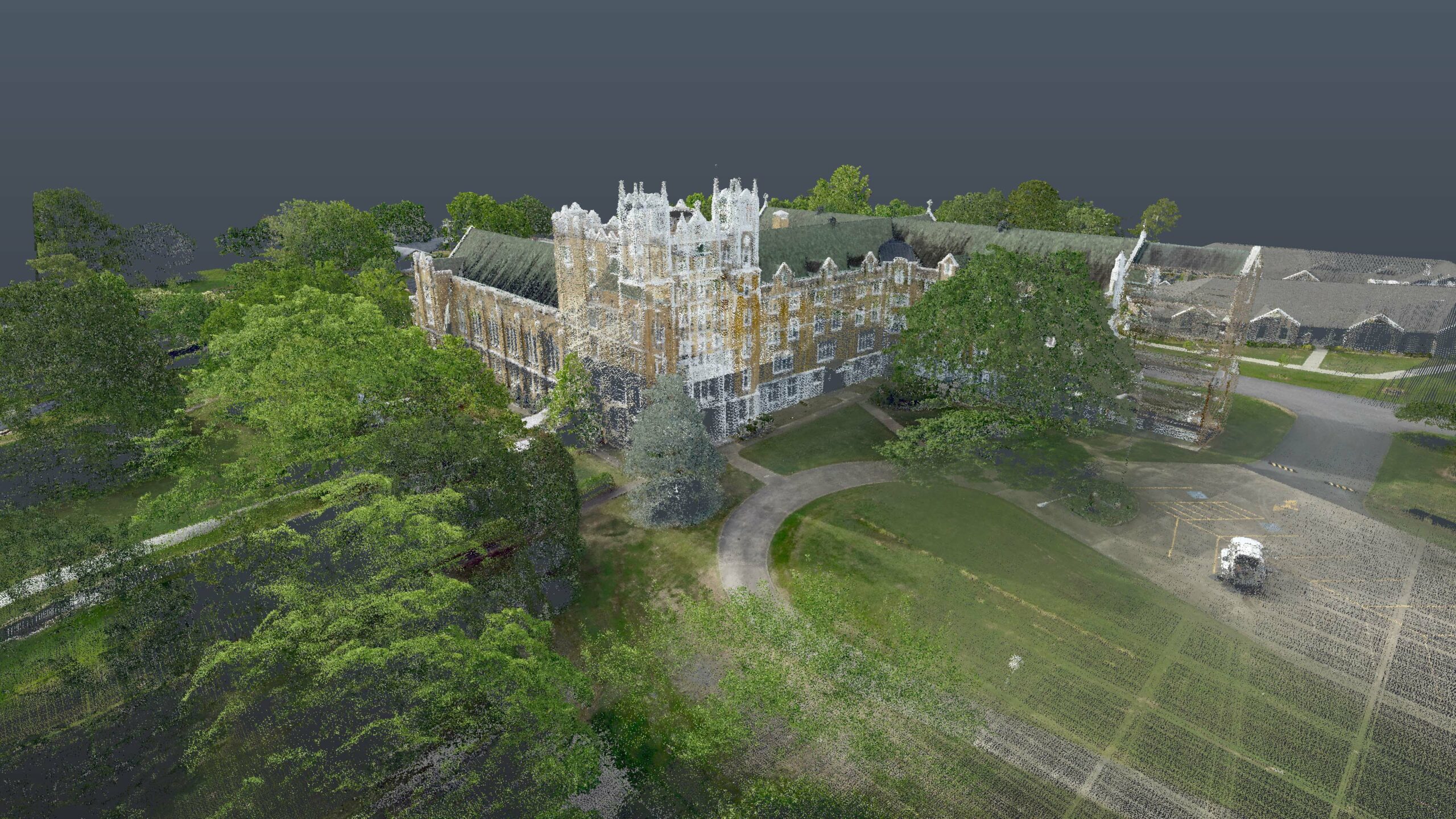 This laser-scanned image of St. Scholastica captures millions of data points.
The demolition of the 98-year-old St. Scholastica Monastery building earlier this year devastated many Fort Smith residents and historians.
The building was designed in the Gothic Revival architecture style and mimicked many of the buildings constructed in the 18th century. This iconic structure, which opened its doors in 1924, housed thousands of students and Benedictine Sisters in Arkansas over the years. However, due to the millions needed for repairs, the Sisters decided to tear down the historic structure.
A group from Halff's Geospatial team didn't want the memories or intricate details of the building to disappear completely. Digital preservation of historic structures is now possible thanks to advancements in lidar and laser scanning technology.
What Is Lidar?
Lidar, or light detection and ranging, is a remote sensing technology that uses light pulses to measure distances from a lidar sensor to a surface. The resulting dataset is a dense point cloud representing the measurement — typically converted to elevation values — of each light pulse from the unit. These points can be classified based on the surface they are reflected from, such as the ground, a building or vegetation.
There are various modes of using lidar, including terrestrial (or ground scanning) and aerial scanning. The terrestrial laser scanner (TLS) is a tripod-mounted, line-of-sight device that emits a vertically rotating eye-safe laser, while the device simultaneously completes a 360-degree horizontal revolution upon the tripod. The device captures millions of data points every second it's in use.
Aerial scanning is similar to TLS, but it is conducted above the ground from a drone or airplane. In the case of St. Scholastica, a drone captured the area from above. This allowed the Geospatial team to scan hard-to-reach places like the roof and the surrounding environment, such as vegetation and buildings.
The New Age in Digital Preservation
Advancements in laser scanning technology have made digitizing and preserving important historical buildings possible in a way never before seen by conservators. Digital preservation documents the intricate architectural details of these rapidly deteriorating structures before they are lost forever.
Perhaps what makes lidar best suited for historical preservation use is the method is not intrusive, does not directly interact with sensitive materials and large areas can be scanned in a relatively short time.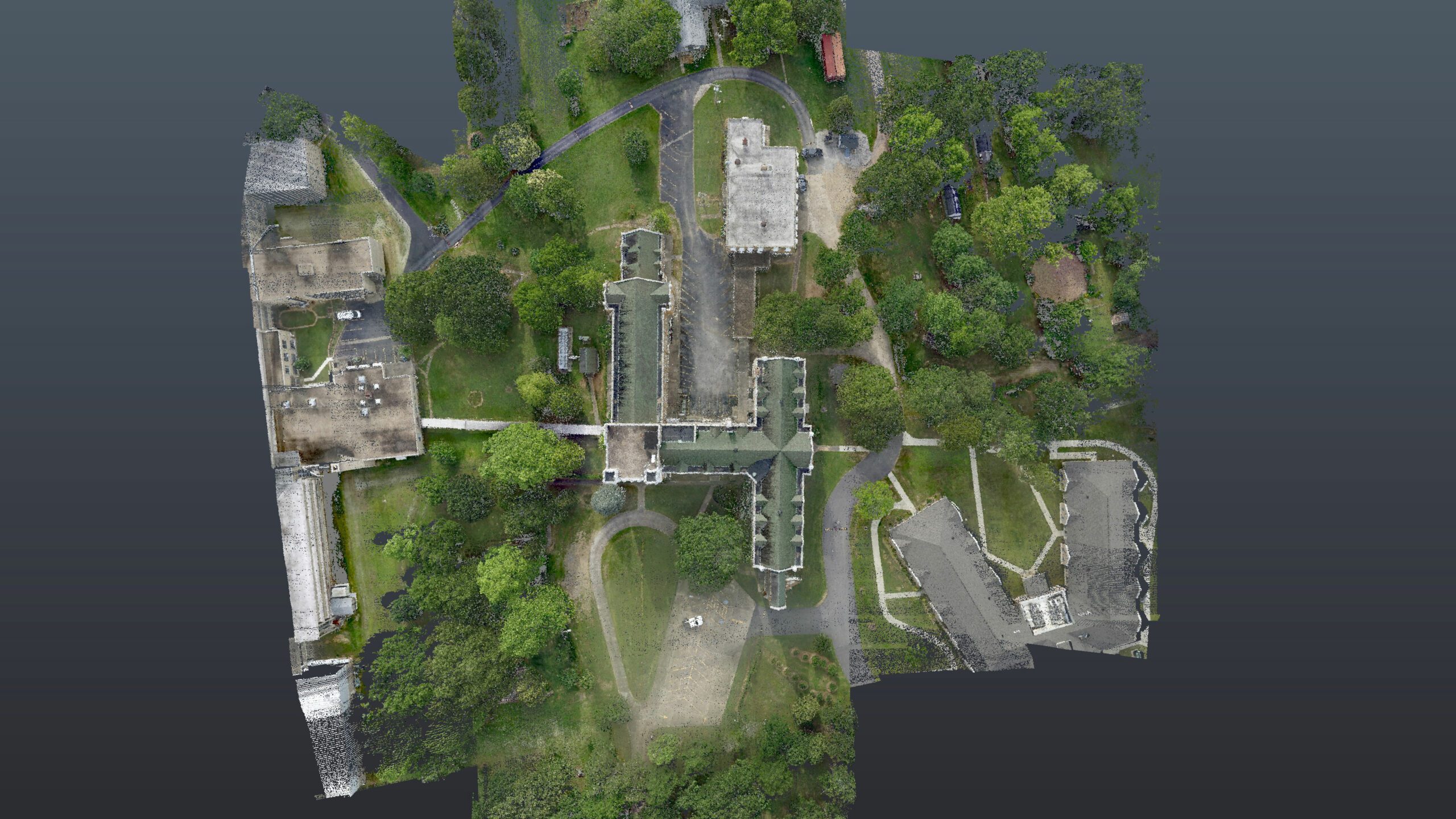 An overhead view of St. Scholastica.
How Datasets Impact Scanning
Digital datasets from lidar scans are used to create detailed as-built drawings and 3D models, thereby ensuring a faithful restoration in the event of a catastrophic loss from fire, tornado or other disaster. The digital data from these datasets can also be used to study and monitor the structural integrity of buildings and identify areas of concern — many of which might not be visible in traditional visual inspections.
Sometimes aging structures cannot be saved and are ultimately lost to the decaying effects of time. However, a collected dataset allows for small-scale replicas of these lost structures to be 3D printed and studied by future generations of architects, historians and archaeologists, such as the case of St. Scholastica.
In addition to scale models, these datasets can also be used to create computer models that enable "virtual tourists" to visit historical sites worldwide that they might otherwise never be able to visit in person. For example, the Statue of Liberty.
---
Halff's Geospatial team can assist you with laser scanning for various projects. Reach out to Aaron St. Amant, Geospatial Team Leader, at ast.amant@halff.com.