Inside Halff 12-15-2022
President/CEO Mark Edwards presented the Dr. Halff Stetson Award to Director of Benefits Susie Nevitt, honoring her for putting people first, investing in others and making a lasting impact at Halff.
Susie has been very involved with the people at Halff since day one. She started as a mail clerk and eventually became the president's administrative assistant, office manager and human resources (HR) representative. Susie now works on the HR team, focusing on benefits, to ensure everyone at Halff is well taken care of.
"She really cares for everybody," Mark said. "She does it with humility, grace and kindness."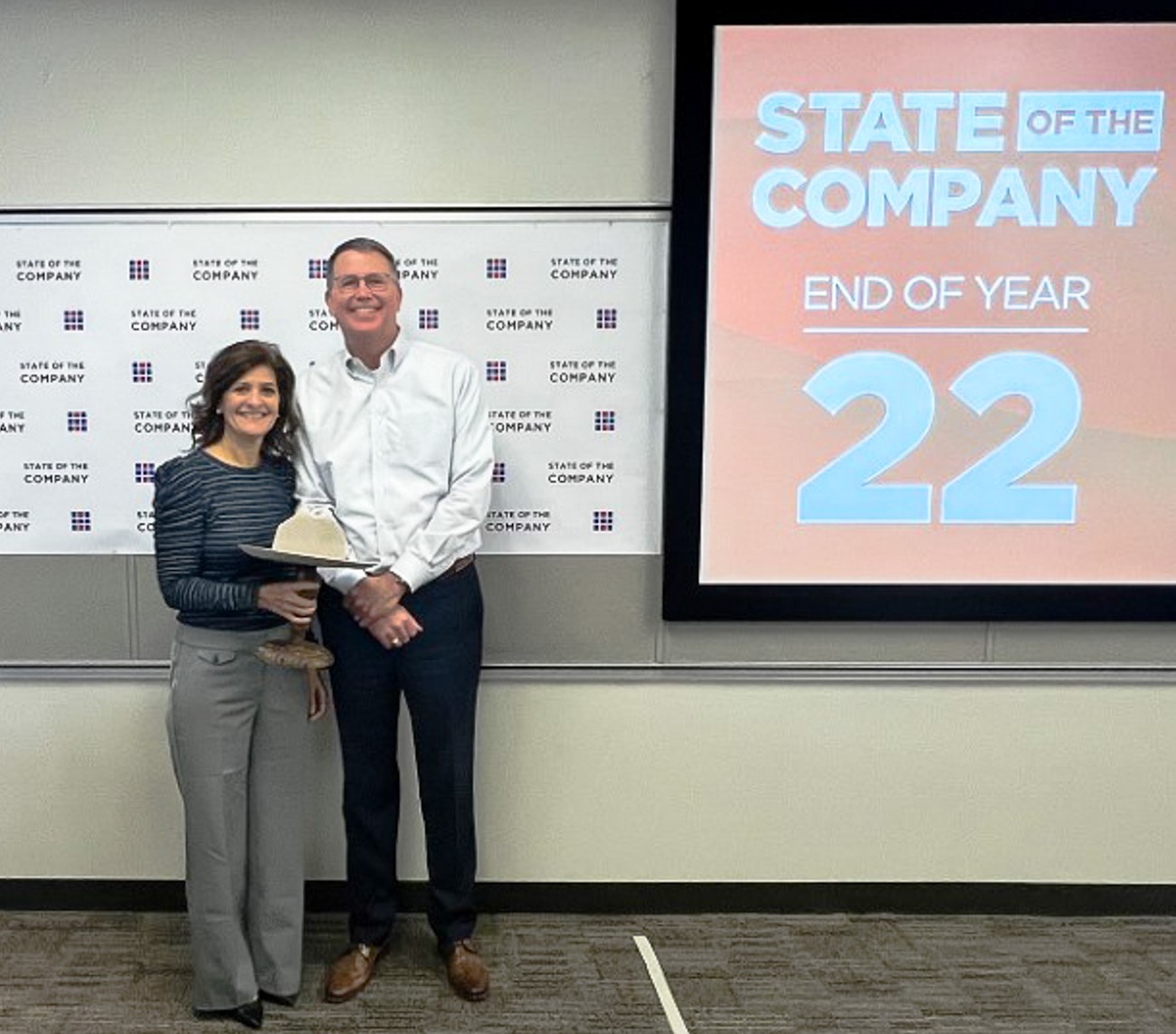 President/CEO Mark Edwards (right) presents the Stetson Award to Susie Nevitt.
Halff created the Stetson Award to honor employees who reflect the people-first spirit of firm founder Dr. Halff. It recognizes someone who cares deeply about others, invests in the growth of individuals and makes a difference in our communities. The award also pays tribute to the legendary Stetson hat he often wore.
Dr. Albert H. Halff posing in his signature Stetson hat.
DID YOU KNOW? 
Halff sits at No. 10 nationally in the companies with 1,000 to 2,499 employees in the 2022 Top Workplaces USA award rankings presented by Energage. In 2022, Halff was recognized as a Top Workplace in Austin, Dallas, Houston and San Antonio. We have also been recognized as a Top Workplace in Austin and Dallas eight times each since 2015, six times in Houston since 2016 and for the second consecutive year in San Antonio this year.
Cumulatively, Halff has been recognized as a Top Workplace 25 times.
APPLY TODAY!
Want to join our exceptional team of people-first professionals? Learn more about what it's like to work at Halff, and then head over to our career portal.