U.S. Courthouse San Antonio Achieves DBIA National Award of Merit
SAN ANTONIO, Texas — A $144 million, four-story U.S. Courthouse in San Antonio earned a National Award of Merit from the Design-Build Institute of America (DBIA) in the federal, state, county and municipal category. Halff partnered with Brasfield & Gorrie for the design-build project.
Halff provided civil engineering, MEP engineering, landscape architecture, surveying, and information and communications technology services for the courthouse.

The U.S. Courthouse in San Antonio won a DBIA National Merit Award and is nominee for a National Award of Excellence. (Image by Halff)
The 235,000-square-foot facility, which sits on 6.3 acres, resides next to the San Pedro Creek on West Nueva Street in San Antonio. It houses eight federal courtrooms, 13 chambers and the U.S. General Services Administration.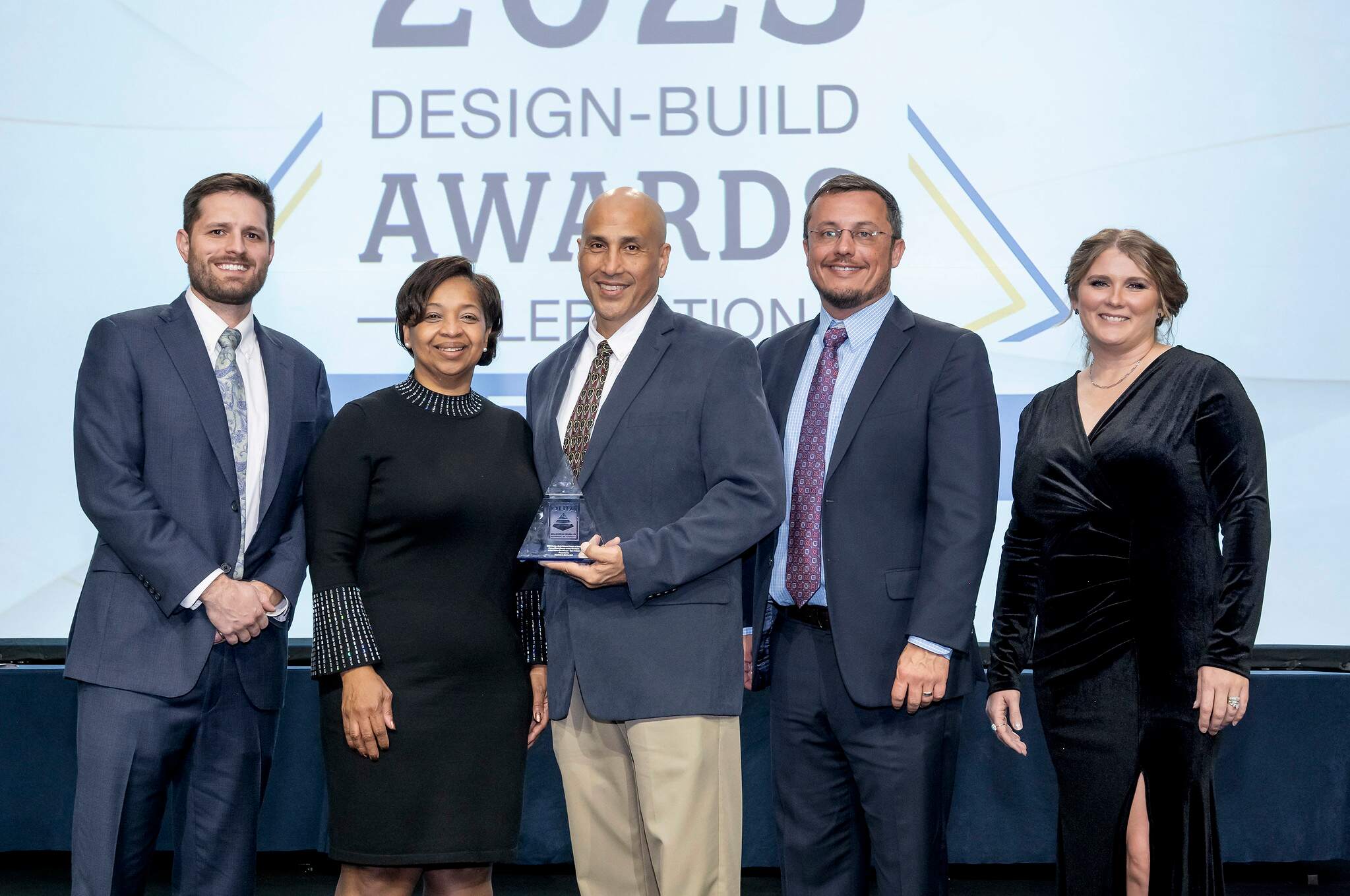 Halff's Robert Saenz (middle), along with the GSA/Brasfield & Gorrie Design-Build team (left to right: Matt Boehm, Lisa Washington, Chris Hodges and Kayleigh Ford) accepted the National Award of Merit at the 2023 National Design-Build Conference in National Harbor, Maryland.
As a merit award winner, the project is a nominee for the National Award of Excellence, which is the highest honor within each category.
Halff has captured 12 project honors in 2023 and has won more than 50 awards since 2021.
About the Firm
Halff is an award-winning, employee-owned, diverse and multidiscipline professional engineering and architecture firm that improves lives and communities by turning ideas into reality. For more than 70 years, Halff has provided smart solutions for clients throughout the United States. The people-first firm is committed to continuously investing in its employees and fostering a culture of collaboration.
Halff has 32 offices in Arkansas, Florida, Louisiana, Oklahoma and Texas. The firm was recognized as the Texas & Louisiana Design Firm of the Year by the Engineering News-Record. Halff is ranked No. 85 in the latest Top 500 Design Firms rankings by ENR. Halff is the No. 15 Top Workplace nationally in 2023 as ranked by Energage for businesses with 1,000 to 2,499 employees.
For more information about Halff, visit halff.com.