Pair of Halff Projects Recognized With Texas Downtown Honors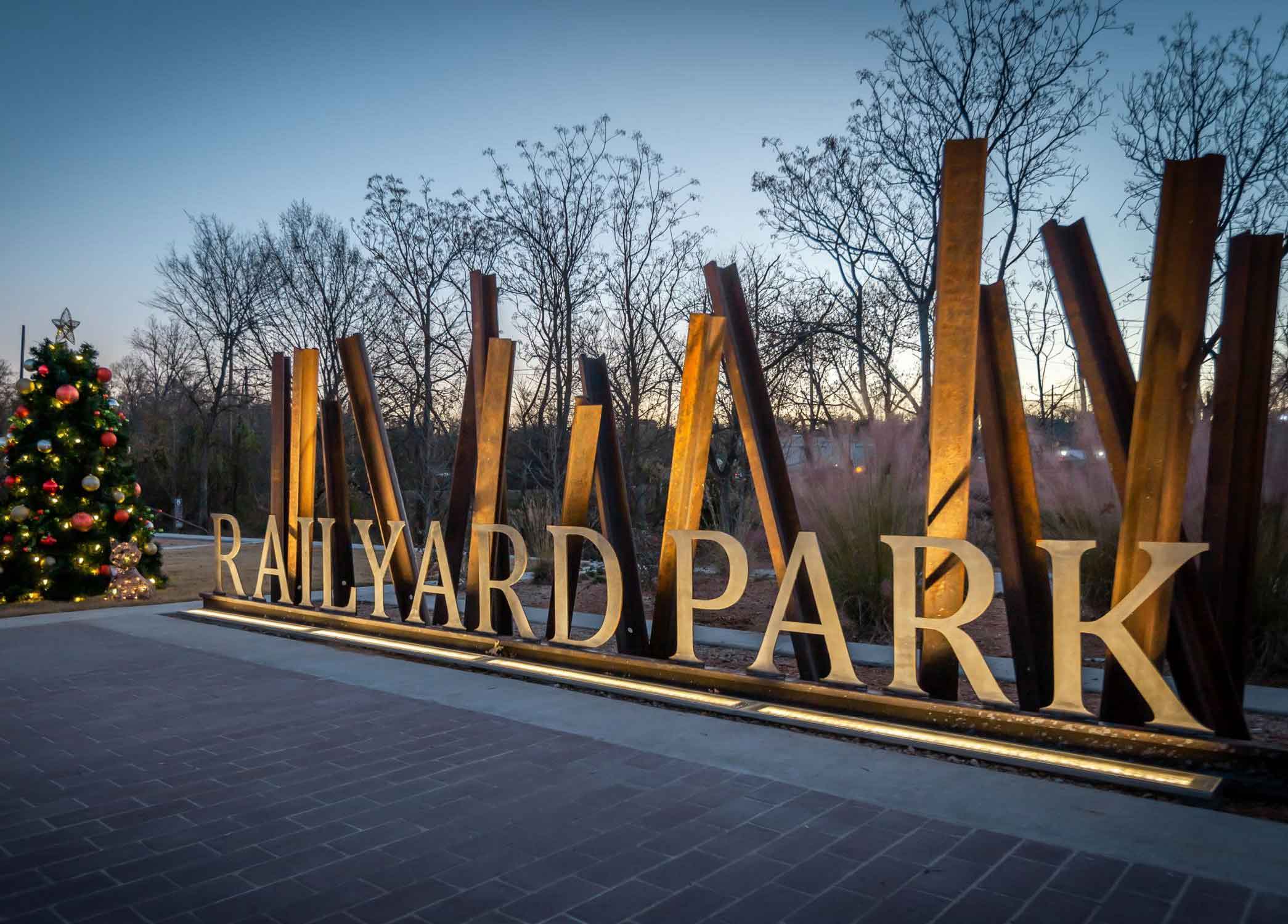 Railyard Park, located in Waxahachie, was awarded Best New Construction from Texas Downtown.
RICHARDSON, Texas — Two Halff Associates, Inc. (Halff) projects were bestowed with President's Awards from Texas Downtown.
Waxahachie's Railyard Park collected the Best New Construction Award for cities under a population of 50,000, while Weatherford's Historic Weatherford Street Reconstruction project collected the Best Public Improvement Award for cities under 50,000.
Railyard Park is a 1.2-acre multi-feature park and amphitheater located steps away from Waxahachie's prominent, well-preserved downtown. This new city park, which has stimulated downtown revitalization, is at the convergence of the old Missouri-Kansas-Texas (MKT) Railroad, the former Texas Electric Railway interurban passenger line from the heart of Dallas. This setting along the scenic Waxahachie Creek greenway draws people for its variety of activities, including symphonies, yoga and readings.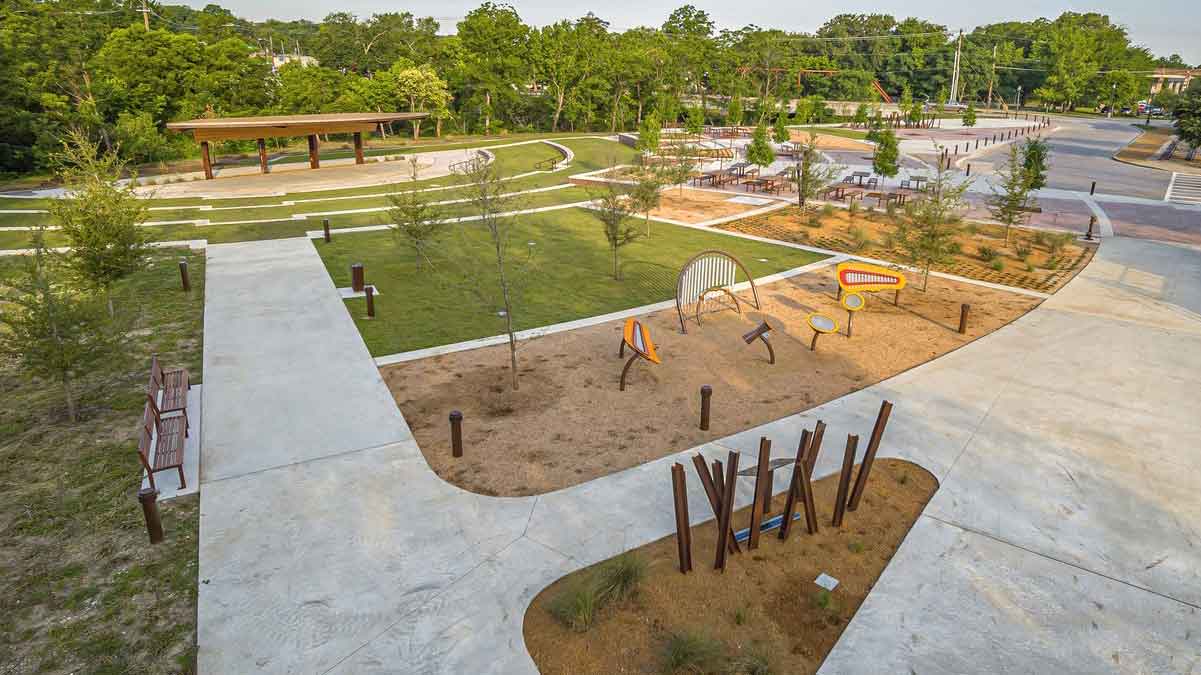 The resilient park has already served its dual purpose successfully by withstanding a torrential 7-inch rainstorm in April 2021 that caused Waxahachie Creek to rise well above its banks. All facilities withstood the flood, escaping damage with minimal cleanup. The park was up and running again for community events within a few days.
Railyard Park received Best Project Award Honorable Mention from the Greater Dallas Planning Council in 2021.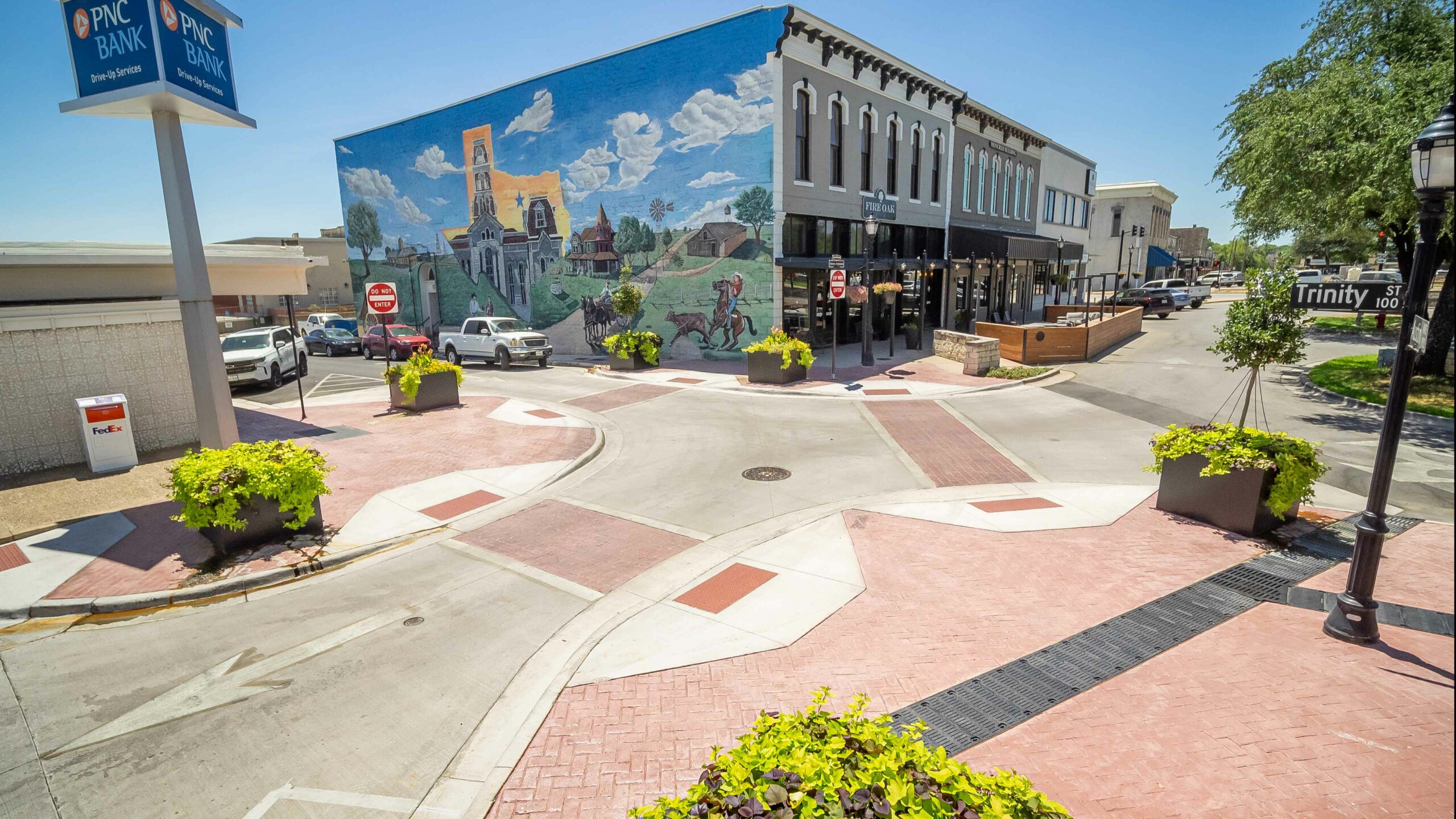 The street improvements in Historic Weatherford was recognized as the Best Public Improvement by Texas Downtown.
The City of Weatherford began developing a vision for improving the downtown area in 2013, seeking to make it more walkable and pedestrian-friendly like it was in 1900. Therefore, the City improved its public infrastructure including streets, sidewalks, utilities and signage.
Halff was selected to develop a roadway reconstruction design for the streets northeast of the courthouse. The project consisted of replacing all water and sewer infrastructure, developing pedestrian bump-outs, adding parallel parking spaces and angled parking spaces, and creating a more walkable environment. The team additionally buried electrical lines and other franchise utilities such as internet and cable infrastructure, which enhances the overall environment.
The Historic Weatherford project won Project of the Year from the Texas chapter of the American Public Works Association (APWA) earlier this year.
In 2022, Halff has won a record 19 project awards.
About the Firm
Halff is an award-winning, employee-owned, diverse and multidiscipline professional engineering and architecture firm. For more than 70 years, Halff has provided innovative solutions for clients throughout the United States. Halff is committed to the purpose of improving lives and communities by turning ideas into reality by continuously investing in its employees and fostering a culture of collaboration.
Halff has 28 offices in Arkansas, Florida, Oklahoma, Louisiana and Texas. The firm is ranked No. 97 by Engineering News-Record. Halff is the No. 10 Top Workplace nationally in 2022 as ranked by Energage for businesses with 1,000 to 2,499 employees.
For more information about Halff, visit halff.com.