Halff's City of St. Pete Beach Sea Level Rise Adaptation Study Earns YEA Accolade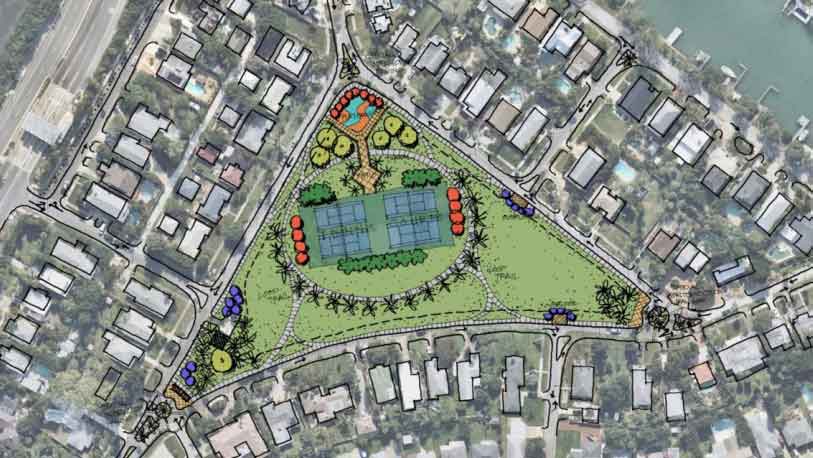 The City of St. Pete Beach Sea Level Rise Adaptation Study was awarded a Yearbook of Engineering Achievement Award in the Environmental/Sustainability category.
TAMPA, Fla. – Halff Associates, Inc. (Halff) was awarded a Yearbook of Engineering Achievement (YEA) Award in Environmental/Sustainability from Civil + Structural Engineering magazine for its City of St. Pete Beach Sea Level Rise Adaptation Study.
The City of St. Pete Beach, Florida, commissioned the development of conceptual adaptation solutions for five areas to address potential water impacts that are projected due to sea level rise. The City retained the services of Halff to prepare an alternative for the historic Don CeSar neighborhood that would allow the area to withstand a rise in sea level from approximately 2.5 feet to 5 feet North American Vertical Datum (NAVD) 88 by 2050.
Halff organized a multidisciplinary team uniting expertise in public works, water resources and planning and landscape architecture. Tasks in the adaptation planning effort included:
Field reconnaissance
Establishment of assumptions regarding sea level rise
Flood mapping to form the basis for the design solutions proposed
Analysis of land use patterns and ownership
Identification of natural assets that could serve as part of the solution
The adaptation alternative concept for the Don CeSar neighborhood proposes solutions to armor the neighborhood's edges against rising seas. A landscaped berm behind the seawall will preserve the area's natural beauty while strengthening the neighborhood's defenses at the perimeter with a two-tiered system to keep out saltwater. A conceptual plan reconfigures local streets and drainage infrastructure while it channels excess rainfall to a detention area in Lazarillo Park to prevent stormwater from inundating neighborhood homes.
By lowering the park's elevation and retrofitting its facilities to withstand intermittent flooding, the neighborhood preserves the amenity and adds storage capacity for stormwater. An advanced pumping system returns stormwater to the bay. Although this adaptation alternative may require changes in the neighborhood's layout, this vision also offers opportunities to restore amenities and preserve livability over the next 30 years.
Because of the City's quick action, it has improved the region's capacity to protect life and property from hurricanes, rising sea levels and other coastal hazards. This plan, prepared as part of the City of St. Pete Beach's innovative adaptation strategy, provides a vision to protect the lives and properties of those who reside within the Don CeSar neighborhood for years to come.
This is Halff's second YEA Award, as the FAMU Way project was recognized as the Summit Award winner and Transportation Award honoree. Halff has collected a firm-record 22 project awards in 2022.
About the Firm
Halff is an award-winning, employee-owned, diverse and multidiscipline professional engineering and architecture firm. For more than 70 years, Halff has provided innovative solutions for clients throughout the United States. Halff is committed to the purpose of improving lives and communities by turning ideas into reality by continuously investing in its employees and fostering a culture of collaboration.
Halff has 28 offices in Arkansas, Florida, Oklahoma, Louisiana and Texas. The firm is ranked No. 97 by Engineering News-Record. Halff is the No. 10 Top Workplace nationally in 2022 as ranked by Energage for businesses with 1,000 to 2,499 employees.
For more information about Halff, visit halff.com.