City of Dallas Achieves Class 4 CRS Rating From FEMA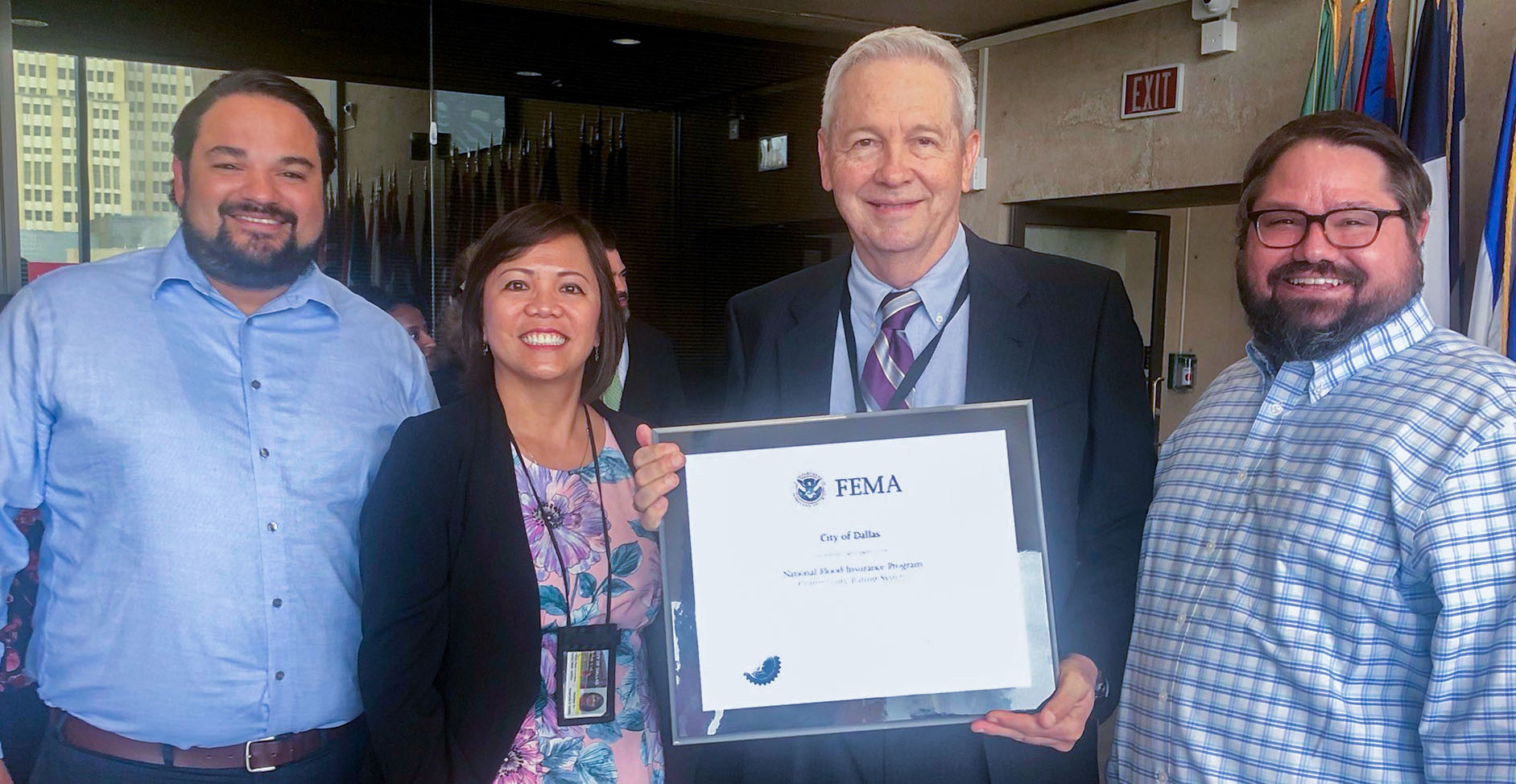 Halff Program Manager Jack Young (left) and Director of Water Resources Jarred Overbey (right) joined Tam Vu and Steve Park from Dallas Water Utilities Stormwater Operations for the special recognition from FEMA.
RICHARDSON, Texas – The City of Dallas became the first community in Texas and the sixth in the United States to earn a Class 4 rating in the Federal Emergency Management Agency's Community Rating System (CRS) program. Halff has supported the City in this effort for more than a decade.
CRS is a voluntary incentive program that recognizes and encourages community floodplain management practices that exceed the minimum requirements of the National Flood Insurance Program (NFIP).
Dallas is the first community to reach Class 4 in Texas and is the highest-ranked community in the state. Per the preliminary list of communities published by FEMA in April 2022, there are only six other communities in the United States with a Class 4 ranking in the CRS program.
Halff played an integral role in achieving this accomplishment by developing the City's comprehensive Repetitive Loss Plan, Local Mitigation Action Plan and Watershed Master Plan, which were critical in achieving the Class 4 rating.
About the Firm
Halff is an award-winning, employee-owned, diverse and multidiscipline professional engineering and architecture firm. For more than 70 years, Halff has provided innovative solutions for clients throughout the United States. Halff is committed to the purpose of improving lives and communities by turning ideas into reality by continuously investing in its employees and fostering a culture of collaboration.
Halff has 28 offices in Arkansas, Florida, Oklahoma, Louisiana and Texas. The firm is ranked No. 97 by Engineering News-Record. Halff is the No. 10 Top Workplace nationally in 2022 as ranked by Energage for businesses with 1,000 to 2,499 employees.
For more information about Halff, visit halff.com.