Three Halff Employees Inducted Into Arkansas Academy of Civil Engineering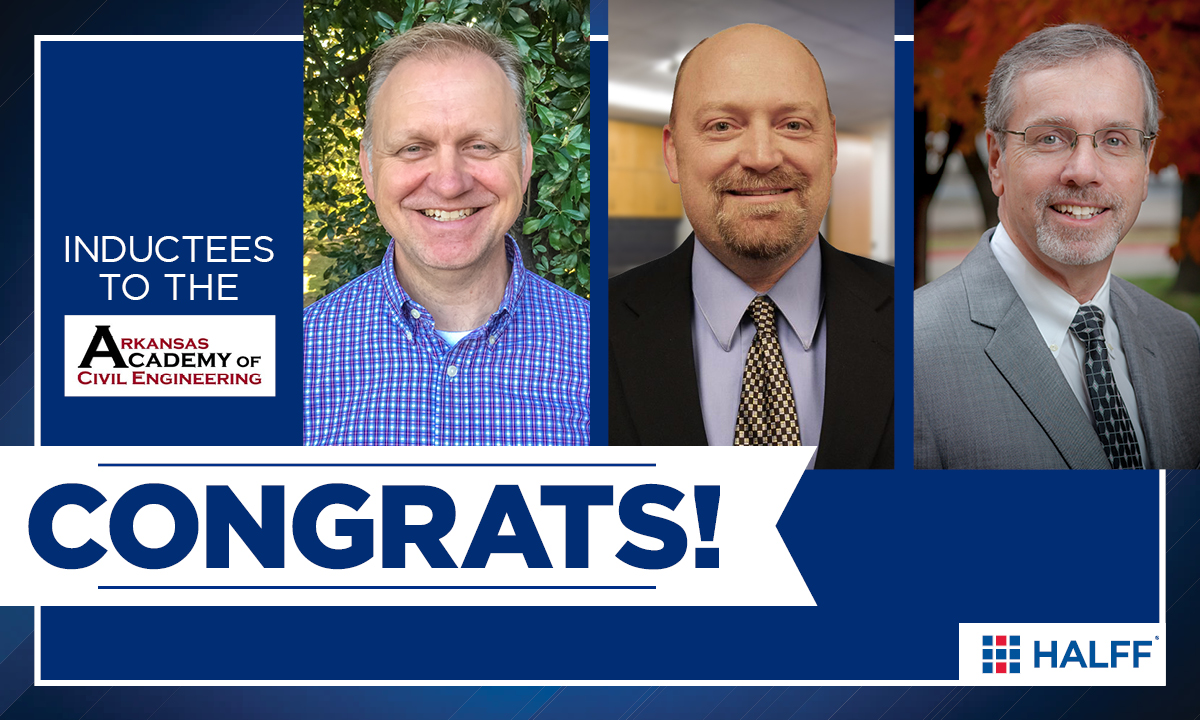 Mark Rickett, Brian Vines and James Arbuckle Sr., have been inducted into the Arkansas Academy of Civil Engineering.
RICHARDSON, Texas – Three employees from Halff Associates, Inc. (Halff) were inducted into the Arkansas Academy of Civil Engineering (AACE).
Brian Vines, Little Rock Public Works team leader, was inducted into the Class of 2021. Vines graduated from the University of Arkansas with a bachelor's degree in Civil Engineering in 1993 and a master's in 1994.
James Arbuckle Sr., senior vice president and Little Rock operations manager, secured a spot in the 2022 class. Arbuckle earned his bachelor's degree in Civil Engineering from Texas Tech University in 1985.
Mark Rickett, a Water Resources team leader in Little Rock, also obtained induction into the 2022 class. Rickett earned his bachelor's in Civil Engineering in 1991.
The Arkansas Academy of Civil Engineering is a hands-on supporter of civil engineering students at the University of Arkansas (U of A). Members will take on the roles of mentors to students. New members in the AACE are selected annually, and are nominated by sitting academy members. Candidates must be granted a degree in civil engineering from the U of A or from an ABET (Accreditation Board for Engineering and Technology) accredited engineering program at least 20 years before election.  Important factors like career accomplishments and professional activities are considered by the sitting members as they elect new members.
About the Firm
Halff is an award-winning, employee-owned, diverse and multidiscipline professional engineering and architecture firm. For more than 70 years, Halff has provided innovative solutions for clients throughout the United States. Halff is committed to the purpose of improving lives and communities by turning ideas into reality by continuously investing in its employees and fostering a culture of collaboration.
Halff has 28 offices in Arkansas, Florida, Oklahoma, Louisiana and Texas. The firm is ranked No. 97 by Engineering News-Record. Halff is the No. 10 Top Workplace nationally in 2022 as ranked by Energage for businesses with 1,000 to 2,499 employees.
For more information about Halff, visit halff.com.