Five Things That Make a Great Sports Complex Experience for Players and Fans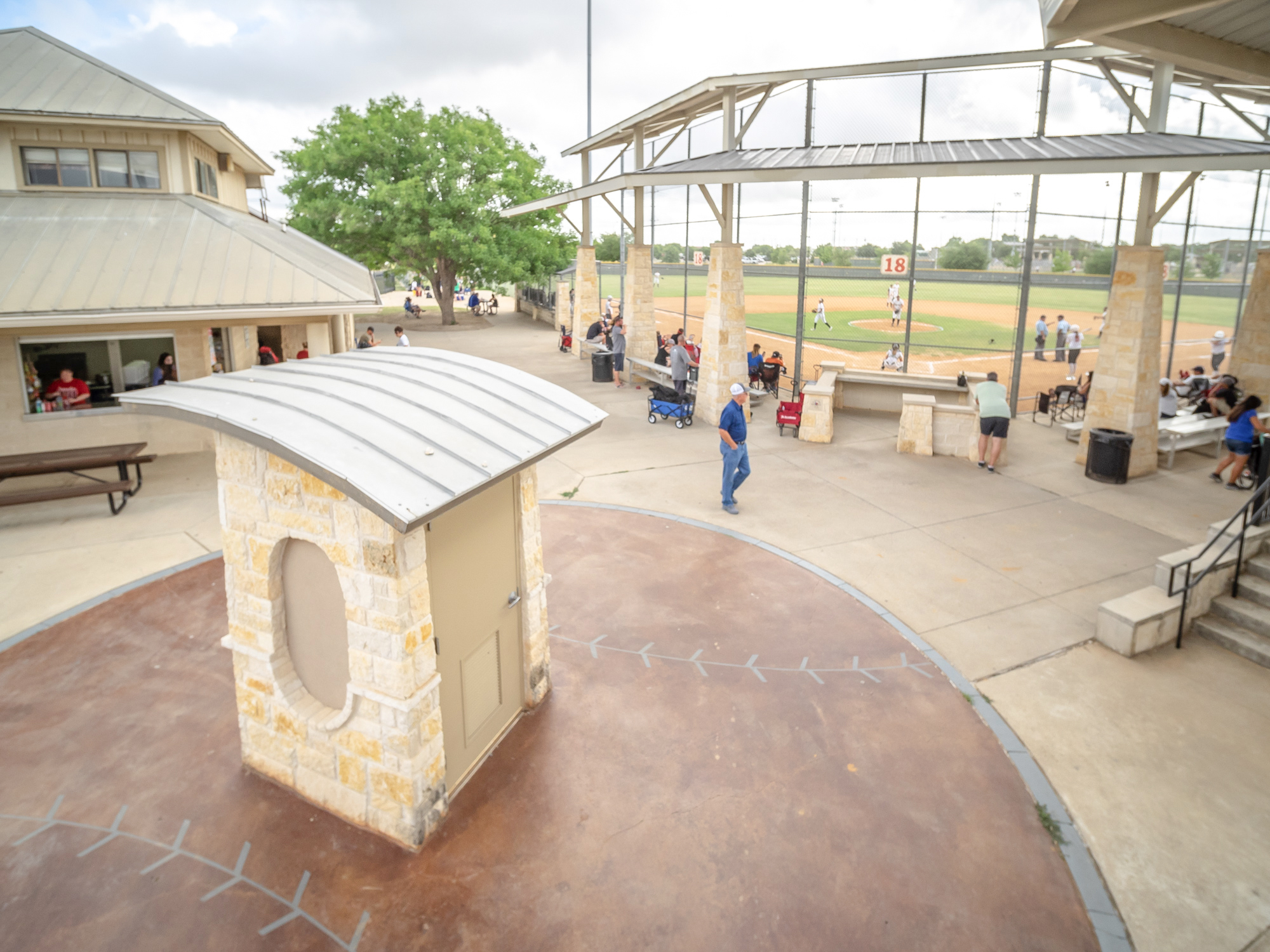 Sports complexes are becoming an important part of the community and an increasingly significant economic driver.
These complexes play host to many weekend tournaments throughout the year and provide recreational opportunities for weekly league play. The tremendous amount of activity has made them a popular social gathering spot as well.
Athletes and spectators spend a lot of time at these sports complexes, especially during tournament weekends for youth sports, so they must be designed to accommodate the needs of everyone—athletes, families, spectators, umpires and officials, vendors and more. Sports complexes have become destination facilities, so they should encompass the competitive elements that enhance the athlete experience, while maintaining comfort and convenience for spectators.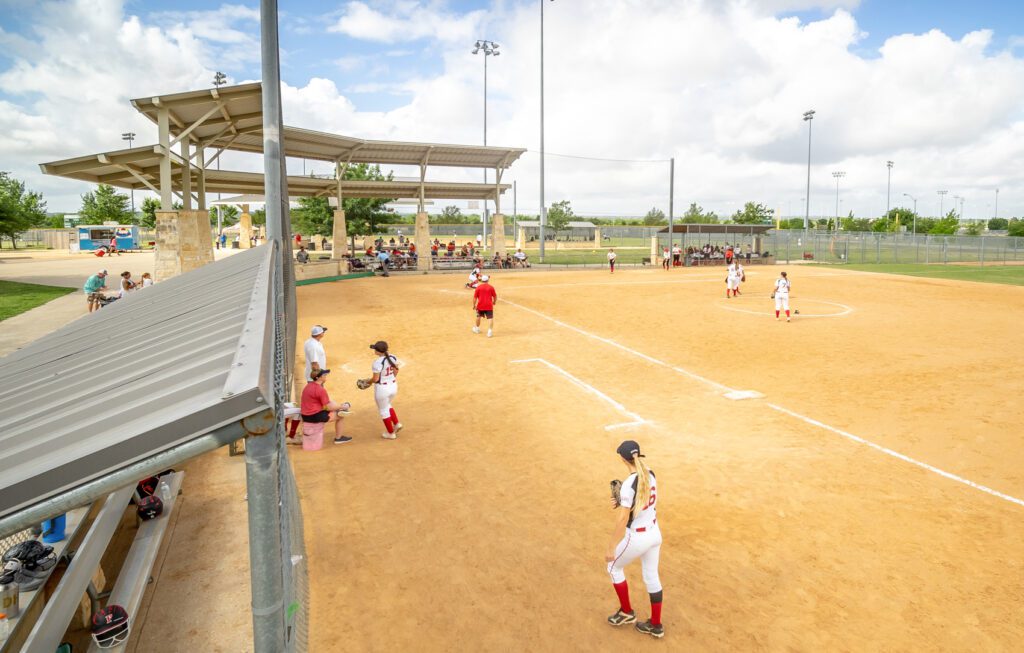 People love to gather with their friends and family—at sports complexes—to cheer on athletes, participate in sports and even enjoy a snack or two. 
Here are five things to help create a great sports complex experience.
1. The player experience: It goes without saying that competitors require great fields.
The quality of the turf or dirt infield, the playability after a rain and practice areas are all key components of a great field.
Other elements can elevate the playing experience such as replacing traditional chain-link backstops with masonry backstop walls and protective netting, masonry-enclosed dugouts with permanent bat racks and two-tiered seating, enhanced outfield fencing and upgraded scoreboards. These changes create a feeling of competing on a professional-level field.
Warmup areas, away from spectators, are also important for players, who may be participating in multiple games throughout the day. Is there a place, such as a shaded pavilion with misters, to debrief following a game? Batting cages can boost the competitive atmosphere as well.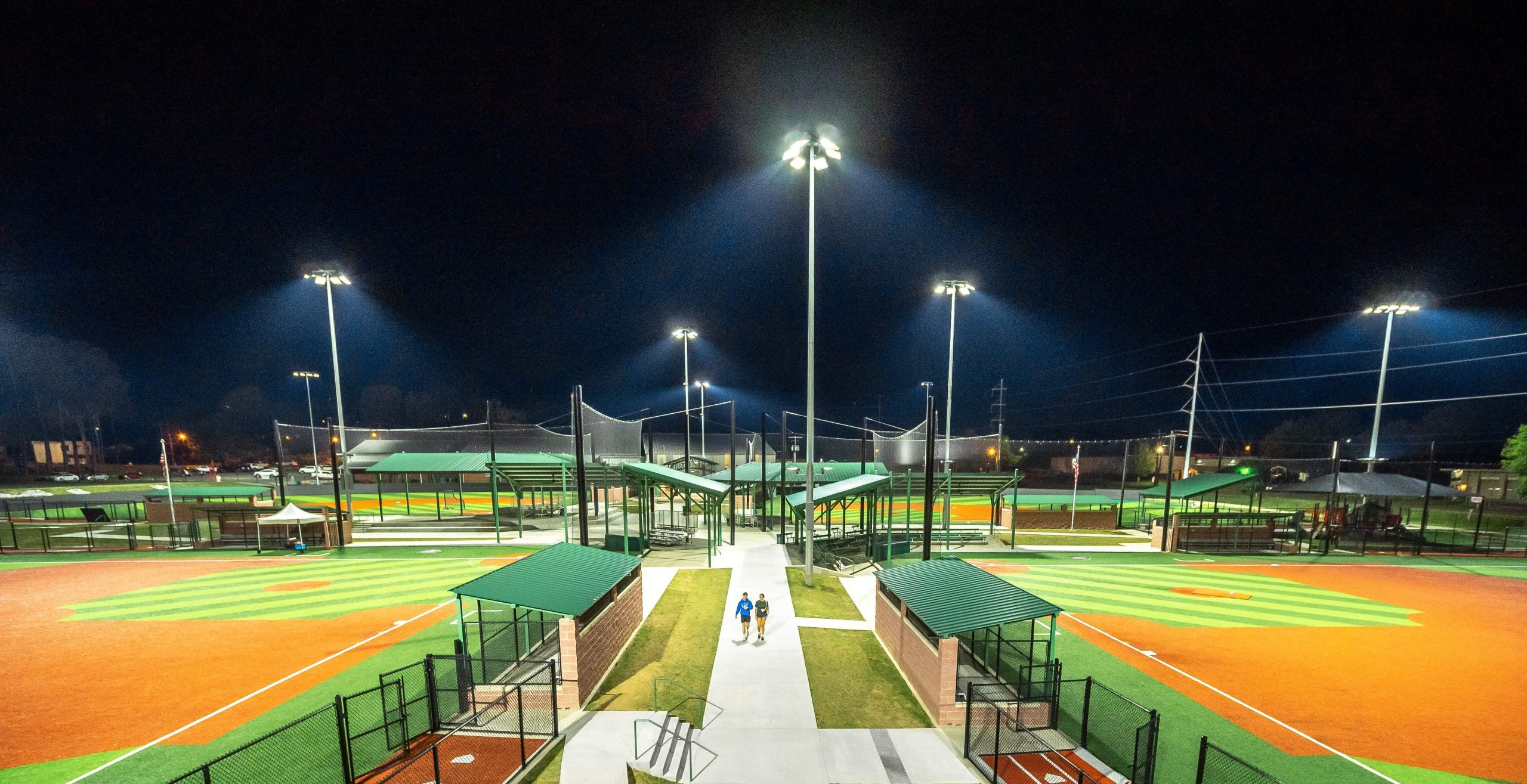 Majestic Park in Hot Springs, Arkansas, contains top-notch features with new-and-improved red brick, steel trusses, plenty of nighttime lighting and many site furnishing details throughout this historic park.
Finally, recent advances in LED stadium lighting allow the lights to be programmed to strobe or "dance" across the sky when a player belts a home run, for instance. Great lighting enhances the experience and improves player safety.
2. The mom factor: If mom is happy, everybody wins!
A baseball, softball or soccer mom may spend most of her weekend at the area sports complex. While it's important that her children who are competing are having a great experience playing on quality fields in a competitive environment, it's equally important she is comfortable.
Shaded bleacher areas with comfortable raised seating platforms make moms happy. Activities for brothers and sisters who aren't competing, such as playgrounds, spray grounds and splash pads within clear eyesight of mom are important as well. Restrooms that are close and have plenty of stalls make moms want to return to your complex.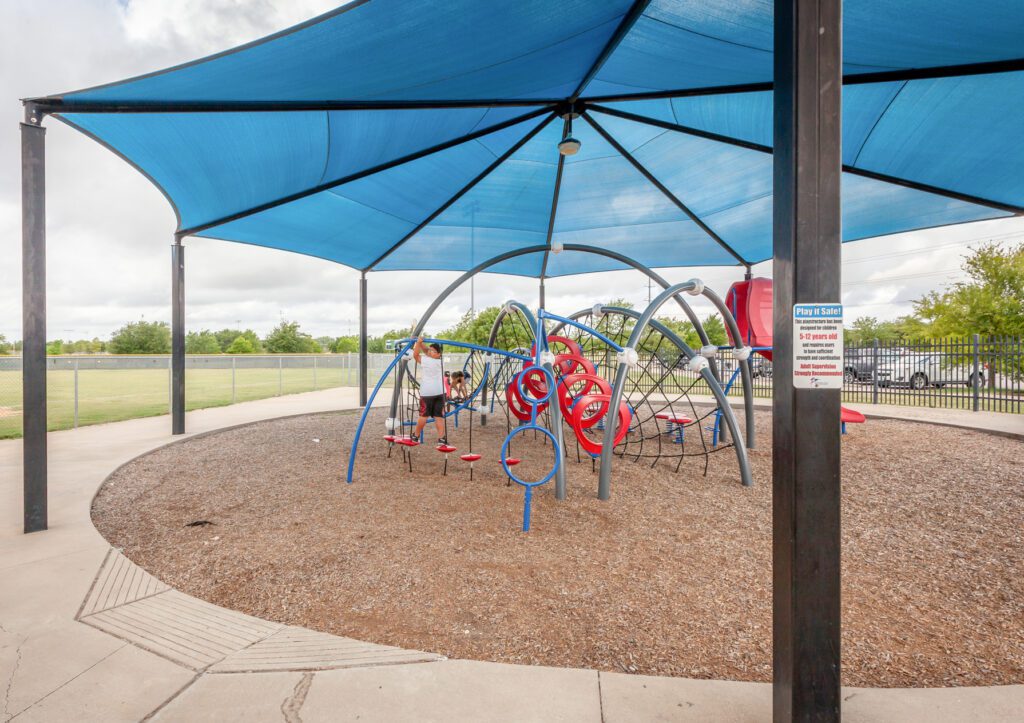 Shaded areas and playgrounds provide much-need relief from the sun's intense UV rays, helping relieve and prevent heat fatigue.
3. Friendly confines: No one wants to get to the sports complex and drive around aimlessly to find a place to park.
Some are going to arrive in the morning, park and be on the grounds all day, so ample parking—conveniently located near the fields of play—is very important. Clear directional signage is equally important for out-of-town visitors.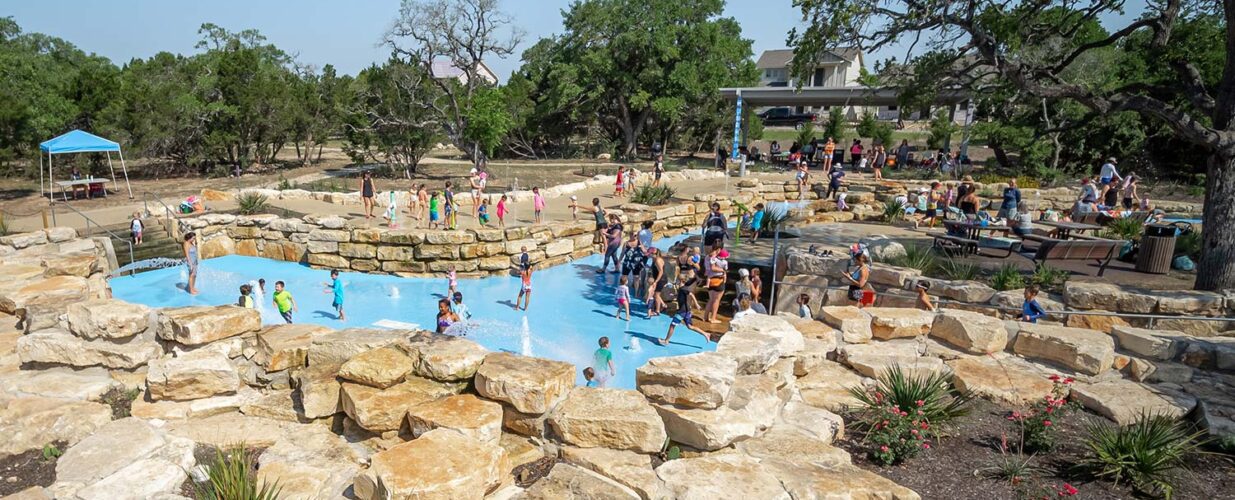 Lakewood Destination Park has a large splash pad perfect for children and families to cool off in the hot summer heat.
And what do players, parents and friends do between games? Some sports complexes integrate spaces for water features, performance stages, walking paths or, yes, even zip lines. It's important to program different activities that engage all levels of spectators and users.
Don't forget about food. More complexes are now creating food court areas, centrally located within the complex with parking for food trucks to provide lunch and dinner options for families who don't want to leave.
Sports complexes have traditionally been a sea of light poles, fences and concrete. Landscaping and masonry elements tend to soften the harshness of this environment, making the user experience a more park-like, comfortable experience.
4. Technology infusion: Connectivity is a big thing, even at a sports complex.
Wi-Fi should be readily available, giving officials, players and parents the ability to access results of other games, schedules and even real-time statistics through a mobile app.
Friends and family are also going to want to post photos of their loved ones.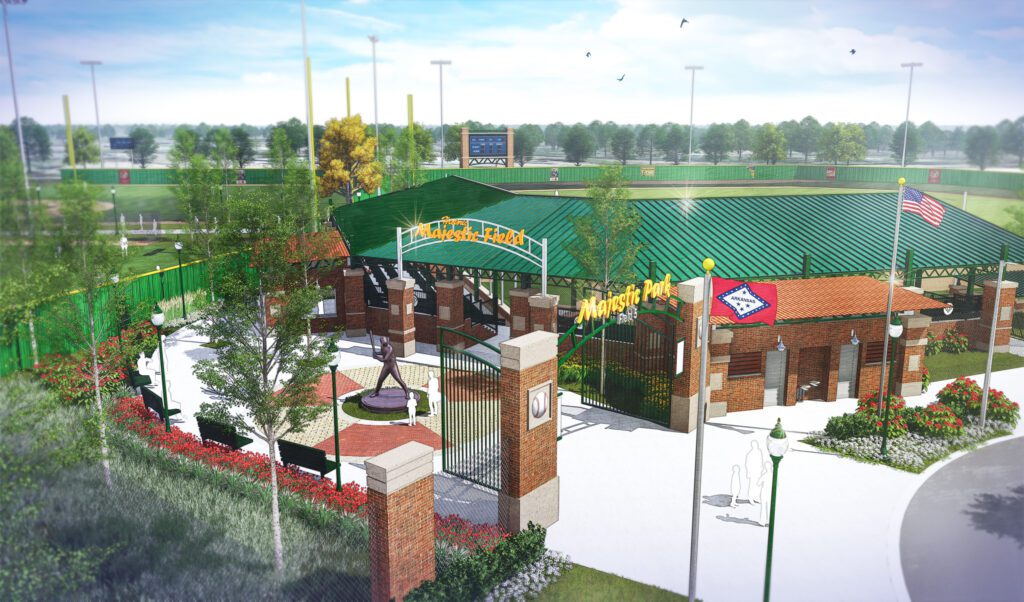 This historically-rich baseball park (Majestic Park) once served as the training grounds for the Boston Red Sox, Cincinnati Reds, Brooklyn Dodgers and St. Louis Browns. Statues and steel features incorporate this history nicely into an engaging overall theme.
5. Theming components: Finally, sports complex designs that are context-sensitive to the community or area they are located, or incorporate historical references from the area, make for a memorable experience. Theming elements bring a unique, thoughtful touch to the complex.
As the competition between communities grows to bring tournaments to their complexes, paying attention to these five items will help your complex stand out and make visitors and athletes want to return again and again.
---
For more on the meaningful sports complex experience, please visit our Landscape Architecture Services page to contact us today!