Case Study: How Integrated Design Enabled an Aggressive Fulfillment Center Redesign and Construction Schedule to Be Met
Background
Logistics Center II is a 1 million sf global e-commerce fulfillment center on Dallas/Fort Worth International Airport land.
Unlike a typical speculative warehouse design project, in which maximizing space, flexibility and efficiency inside the building's shell is the top goal, the user-specific processes and activities inside Logistics Center II dictated the structure's design—unusual for a building this size.
Numerous challenges made this project unique, and upon completion, rewarding:
The facility was designed originally as a shell building only. However, the end user's requirements for the facility necessitated a complete redesign as building length, building width, bay spacing, clear height, office location, truck courts, trailer storage yards, parking and traffic flow features were modified to accommodate those needs.

An aggressive schedule called for the redesign and construction to be completed in just under eleven months, meaning they had to occur simultaneously.

Neighboring waters of the United States and other restricted areas limited design adjustments to the site footprint.

The DFW project site also touches the cities of Grapevine and Coppell, which have their own requirements and specifications. Utility connections from each municipality had to comply with these requirements and meet DFW criteria.

E-commerce buildings typically house many more employees than warehouses do. More truck traffic, staging and queueing also had to be addressed. Coordination of site access and circulation criteria weighed heavily in the final design.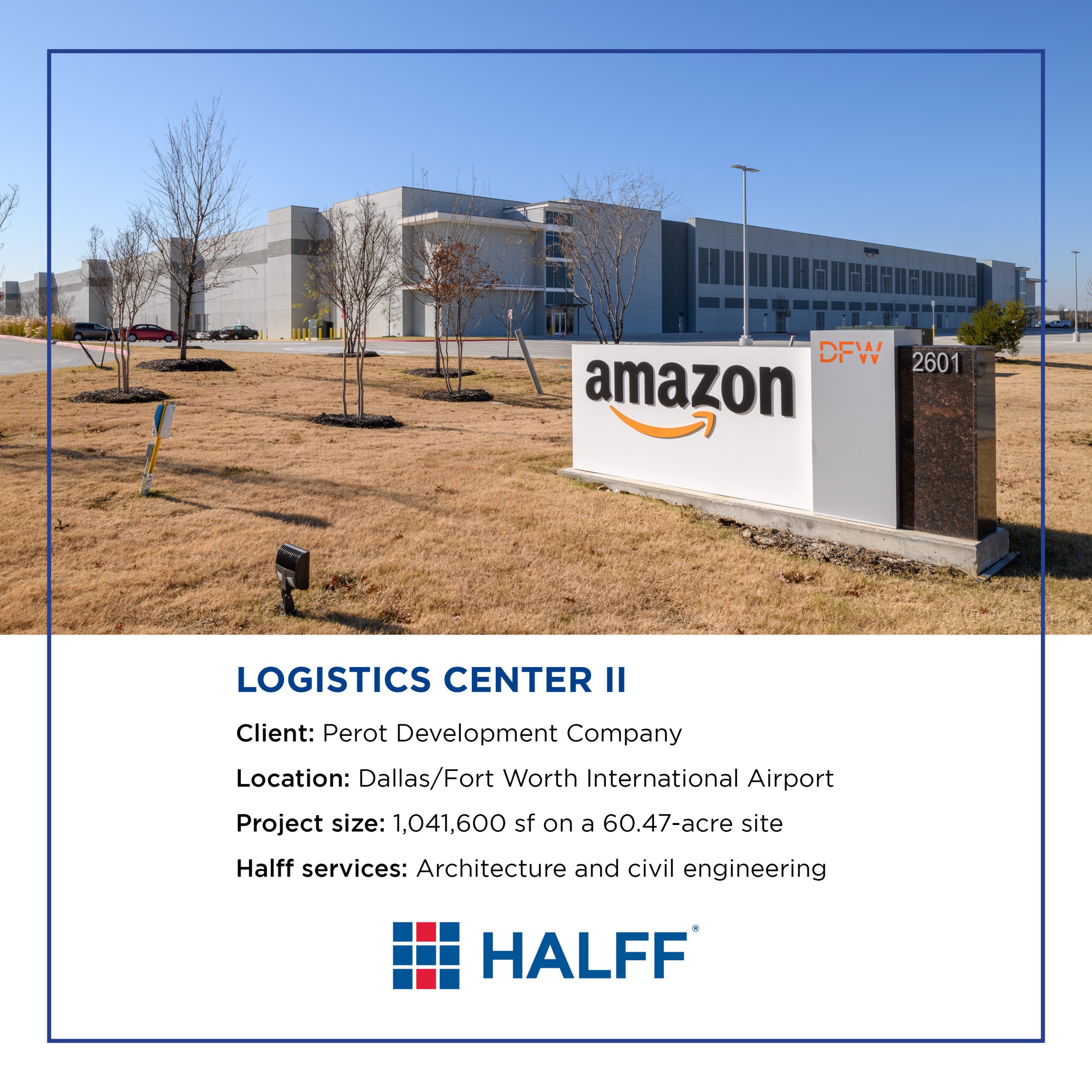 Approach
Halff's integrated architectural and civil engineering approach was instrumental in meeting the aggressive project schedule and bringing the e-commerce facility to market on time. In-house relationships and trusted conversations among architects, engineers, environmental specialists and surveyors that occurred daily enabled quick decisions to be made and project coordination to progress efficiently.

Multiple design packages were delivered to meet the schedule because the contractor was moving dirt before the building redesign was completed. Early grading and foundation packages were issued within two weeks after commencing the redesign effort. In the typical design process of a facility such as this, multiple design disciplines may spend weeks working out a site plan and have nothing definitive to show for it. That slower process wasn't possible with this project.
In-house collaboration and expertise also brought better understanding that there was no option but to avoid the waters of the United States area in the redesign process. When various elements of the building—whether parking, trailer storage or vehicle maneuvering—began to encroach on that protected area, it was easier to resolve the conflict. Had an architect been working on the site plan apart from the civil engineer and other valuable environmental resources, the process would have taken more time to resolve.
There were many unique design challenges to the site and building, which was about a quarter-mile long, included 200 tilt-wall panels and 1,200 drilled piers, and had more than 10 feet of fall across the building pad.
The relationship with the contractor was important. Halff's design team worked with the contractor to determine the exact sequence of construction events so design packages could be delivered appropriately and maximize efficiency.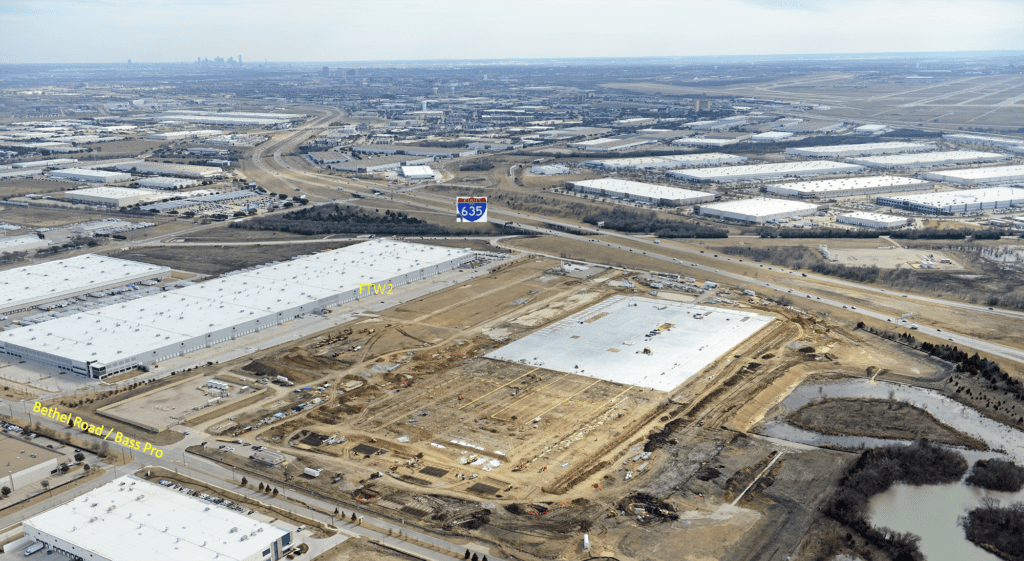 The e-commerce building project is located at Dallas/Fort Worth International Airport, off Interstate 635.
Challenges
In addition to the redesign, schedule and location challenges, there were many e-commerce requirements that made this building different from the average warehouse.
Traffic flow, for one, had to separate cars from tractor trailers and allow for safe pedestrian access. The property included more than 3,500 parking spaces, so ensuring worker safety and quick entry into the parking area and then into the building without creating undue congestion was critical.
Traffic flow and access management was accomplished by understanding the owner-provided site control and circulation criteria and designing a dedicated drive into the lot. Parking aisles were one-directional with angled parking spots to speed up parking. Dedicated pedestrian access aisles in several locations enabled quick and safe entry to the building.
A truck court with 100 dock doors, 220 trailer storage positions and queueing for up to 20 trucks outside of a guardhouse were separated from car parking and traffic.
The new building configuration was designed completely to meet the demands of an e-commerce facility. Bay spacing was revised to maximize the efficiency of robotics. The building length and width were modified to maximize the existing process planning of the user. Clear height was raised to accommodate multiple levels of mezzanine. The office area was relocated to the middle of the building. Building slab, piers and columns were all reinforced for heavier loads. Stair towers were added outside the limits of the new mezzanines to limit any conflicts.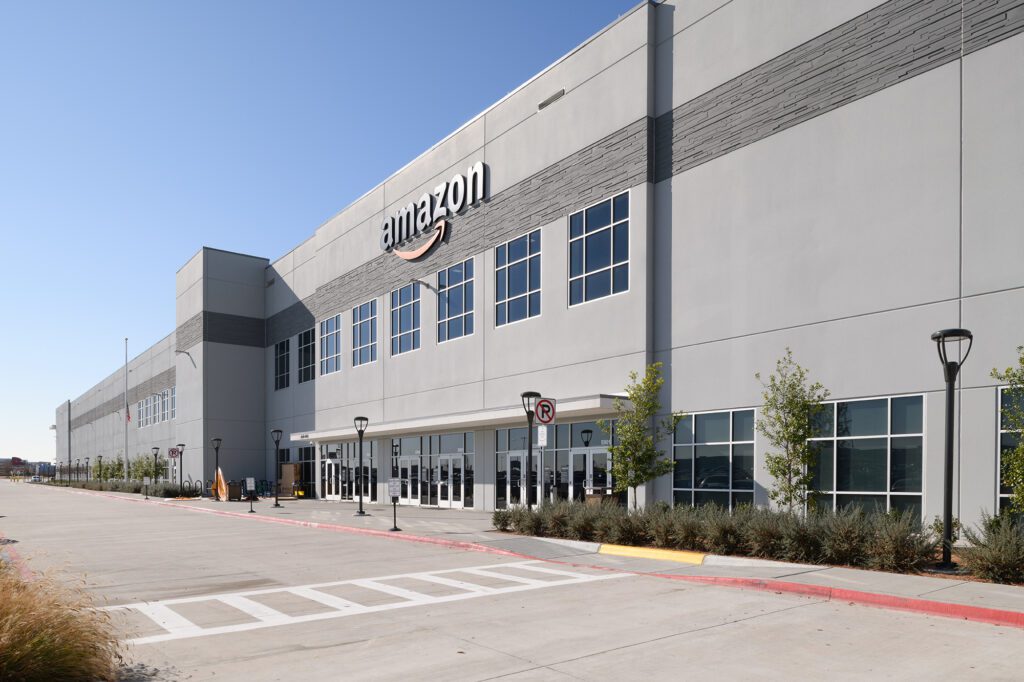 The redesign of Logistics Center II included moving the office area to the middle of the building.
Results/Benefits
This complex redesign presented many challenges. However, in-house collaboration and a close relationship with the contractor enabled the project to be designed and constructed on schedule.
Despite working with three municipalities—each with different requirements and code inspectors—conflicts were avoided. Each municipality was informed throughout the process to avoid delays, and each trusted in Halff and was willing to accelerate reviews.
A trusted advisor relationship with Perot Development Company was important as well, resulting in immediate communication and documentation that kept the project moving forward.
---
To find out how Halff architects can offer you the benefit of full-service integrated design, write to Info-Architecture@Halff.com.
Go to halff.com/services/architecture to view recent architecture projects.
Visit halff.com/our-work to learn more about Halff's full range of professional services.